Georgia Straight Article on iPhone Development
Last week I was interviewed by the Georgia Straight.  I also went down to the Georgia Straight offices and had my picture taken.  The article has been republished on the Georgia Straight site.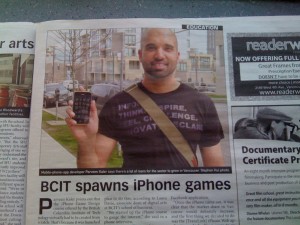 The article focuses on iPhone Development here in Vancouver and the opportunities for education and training.  A big part of the article is about the course that I taught at BCIT last year.  I want to take a step back and discuss the bigger picture with respect to mobile.
Bleeding Edge Mobile: Development & Lifestyle
Mobile development is very bleeding edge today.  There will be a ton of trial-and-error in this space.  We are all just figuring it out.  I bought my first pager when I arrived at Simon Fraser University in 1998.  These were the days of ICQ. Short-form text messages were just taking off. But, you had to be sitting at your computer at your desk. Wifi was not ubiquitous. Laptop computers were rare. The pager was really the first way for the masses to receive short form text messages anywhere in the world.
This was only 10 short years ago.  We have advanced by leaps and bounds since then.  Our mobile devices are always connected.  The mobile web experience rivals the desktop.  We can contact others by text, voice, picture, video, and location.  This can all be done from almost everywhere in the world.
Our mobile devices contain GPS units and out of that arises location-aware services.  I love my Garmin Forerunner as much as my iPhone.  The Forerunner is one obvious use of GPS technology.  It is a brilliant use of technology to enhance a person's training experience.  Technology that was only available at elite events is now available to the masses.
This is as important as Google Maps on the iPhone.  Think about what happens when location information can be attached to every meeting in your calendar, every task in your TODO list, every article in your news reader, every text message that you receive, and every picture in your photo album.
Suddenly, we have context.
We live in a brave new world where we don't have to be tied down to a particular location.  The days of working at a station in a factory are coming to an end.  This will soon be followed by the end of the cubicle in the office.
Homo sapiens are nomads.  We were never meant to be chained down and we were never meant to settle.  This has only been an aberration since the Industrial Revolution.  We are travelers and adventurers.  The Mobile Revolution is about returning to our roots as nomads.
Vancouver: MobileCity
There is an obscene amount of mobile development done here in Vancouver.  There are two big players in the space.  Nokia has an office in Vancouver where a big chunk of their N-Gage platform is developed.  Sierra Wireless is headquartered in Vancouver, too.
The large number of game developers working on the Sony PSP and Nintendo DS can not be discounted either.
A number of young and hungry entrepreneurs are being fostered in this ecosystem.  These young entrepreneurs are hustling and killing it every single day.  Igor from Handi Mobility was interviewed for the article, too.  His company has built a brilliant service called Mobify that takes your content that was authored for the desktop and can push that out to your mobile web browser.
Many Platforms
The iPhone is the new hotness and has received a ton of buzz.  However, this space is full of dozens of 800 lbs gorillas.
RIM still owns the enterprise with their Blackberry.  Nokia's N-Series is brilliant and every second phone I saw in India was made by them.  Palm is hungry and desperate.  They know that the Pre is their last big chance and it looks like they have built something awesome.  Google is pushing very aggressively with their Android platform.
Sony can not be ignored.  Their Sony PSP is very successful and they have great cameras in their Ericsson phones.  Sony has the unique advantage of having a huge library of music, film, and games.
Nintendo will not sit idle with the DS either.
One of these days Microsoft will come to their senses, fire Steve Ballmer and Ray Ozzie, scrap Windows Mobile, and let the J Allard wing of the company build brilliant products.
I also look forward to the day we can build software for the Amazon Kindle.
Apple, RIM, Nokia, Palm, Google, Sony, Nintendo, Microsoft, and Amazon are all 800 lbs gorillas and they all want to own a big chunk of mobile.
Twitter
Big thanks to everyone at The Georgia Straight.  For even more information, you can follow The Straight, Jeffery Simpson, Stephen Hui, Igor, and myself on Twitter.